The "Big Three" – William Hill, Ladbrokes and Coral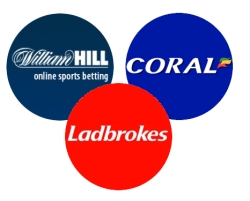 With over 50% of the adult population placing bets at least once per month and approximately 73% of them gambling once per year at minimum, you might be tempted to believe that the United Kingdom is the gambler's paradise. However, what truly lies behind the British citizens' enthusiasm with betting consists of a well-regulated legislation and careful supervision from the local authorities and the Gambling Commission.
In addition, it is necessary to point out the fact that bookmakers also do their part in sustaining the economy as well as being constant participants and promoters of socially responsible activities. Furthermore, the major operators that currently hold a great percentage of the betting market in the UK have proven their commitment – time and time again – towards protecting and helping people with a gambling problem.
In fact, well-established UK bookmakers make a habit out of donating around £5 million annually for funding research, education and treatment for people suffering from this addiction. Not only that, but some of them get involved in charitable campaigns all across the world. The most recent mission is William Hill's Project Africa, which is essentially a fundraising campaign focused on ensuring the children and teachers of the Island Primary School in Laikipia, Kenya can benefit from clothes, shoes and essential items for learning.
To put it simply, there is more to these major UK bookmakers than meets the eye. Let's find out about the top 3 operators that currently hold an important part of the British betting market, shall we?
Ladbrokes
With a history of around 200 years of booking, Ladbrokes is a name synonymous with gambling and betting not only in the UK, but also in Spain, Belgium and Ireland. Having more than 2,400 retail betting shops all across the UK and Ireland, the company's outstanding success over the years is primarily due to the operator's vision and strategy.
Ladbrokes is a company that has withstood the test of time and that takes pride in offering users the ultimate one-shop betting experience. From broad sports coverage and providing live video broadcasts of the events to integrating the most comprehensive horse racing and international cricket information, Ladbrokes is currently one of the most trusted operators worldwide. In fact, because the services are available in 17 currencies and supplied via 13 tailored sites, the operator has approximately 800,000 active clients and an annual revenue in excess of £1 billion.
In spite of the fact that this bookmaker doesn't supply the most competitive bonuses and promotions, you will be happy to learn that it grants fairly good values on certain wagers. You simply can't find better guaranteed odds on all horseracing events or each-way betting values than the ones made available by Ladbrokes. Nonetheless, their £50 free bet is available for all sports, including football, greyhounds and snooker.
William Hill
Even though William Hill was founded around 70 years ago, nowadays the name is just as recognized and trustworthy as Ladbrokes in both online and in offline betting shops. When the operator made its services available online the business really started to flourish and has actually extended to over 175 countries. Offering waging services in 11 currencies and 6 languages, William Hill has managed to substantially increase the customer database to 300,000 active members at the present day.
The bookmaker provides coverage for over 60,000 events, over 30 sports and has approximately 2,400 licensed betting parlours in the United Kingdom alone. It is necessary to mention that gamblers can enjoy sports betting, casino games, poker, bingo and financial waging in both online and offline settings. Considering that customers can choose between 500,000 betting opportunities weekly, it is safe to state that William Hill took the waging experience to a whole new level. In the light of these facts, it doesn't come as a surprise that William Hill currently holds around 25% of the betting market in the UK.
Some further noteworthy facts regarding UK's leading bookmaker are the betting coverage, odds quality and the payout times. While on registration users will receive a £25 free bet they can place anywhere they choose, you will be glad to learn that the minimum deposit is of only £5 and does not involve a rollover prerequisite. In regards to the payout times, most users state that the cash is delivered in less than 8 hours.
Coral
Having approximately 1,400 licensed betting shops in the UK alone and hundreds subsidiaries in Italy operating under the Eurobet name, Coral is another leading bookmaker with a rich 80 years booking experience. While its fame and name is well-known on British soil, Coral has just started expanding business across the continent. The bookmaker is a subsidiary of the Gala Coral Group, a brand that needs no further introduction. The affiliation with the aforementioned group doesn't only contribute to a positive reputation, but also makes the operator a very safe choice. The revenues of over $1 million per year and services provided in over 100 countries stand proof of that.
Even though it might not be as recognised as William Hill or Ladbrokes, it is necessary to highlight the fact that Coral is slowly but surely gaining more popularity among bettors and enjoys a great reputation in both online and offline environments. The U.K.-operator includes a high variety of betting options from a plethora of popular sports in the U.S., U.K. and mainland Europe, first-time users benefiting from a £50 free bet. Although the minimum deposit is similar to the other leading bookmakers, namely £5, you should know that Coral does not have a maximum amount that has to be deposited within 24 hours.
In the eventuality that you win, then the funds will be immediately available and can be transferred in your Coral account in just a few seconds. Granted, similar to the other leading UK operators Coral prices might not be the best on the market, but they are in general consistent and above decent. In addition, the bookmaker does not feature hidden fees, additional taxes so overall, you can be certain you will not be ripped off!
—–UPDATE—–
In June 2015, Ladbrokes announced a possible merger with Gala Coral Group. The deal was negotiated in July 2015 and created Britain's biggest bookmaker, with over 4,000 betting shops and 30,000 employees, overtaking William Hill, with almost 2,400. In July 2016, the Competition and Markets Authority identified 642 areas where the merger would jeopardise local competition. According to the report Ladbrokes and Coral needed to sell off 350-400 betting shops to finalise the merger. Ladbrokes and Gala Coral agreed to sell 359 betting shops, after the merger, to rival bookmakers in an attempt to meet the regulator's requirements – specifically 322 shops to Betfred for £55m in cash and a further 37 to Stan James for £500,000. The £2.3bn merger was approved and completed on 2 November 2016. Ladbrokes acquired the Coral Group and then changed its own name from Ladbrokes plc to Ladbrokes Coral Group plc.